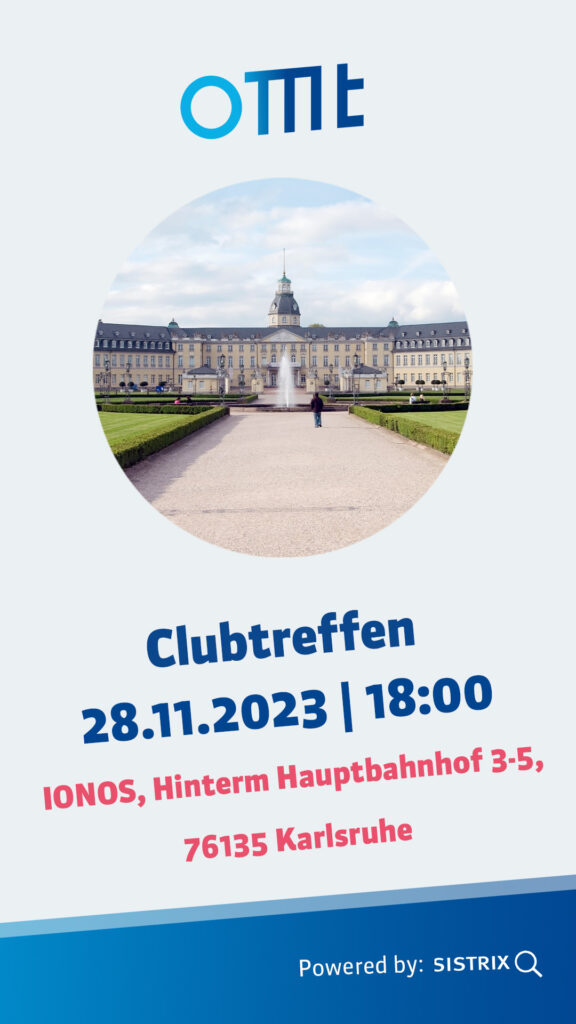 Wo: In Karlsruhe bei IONOS

Wann: 28.11.2023

Uhrzeit: 18:00 Uhr - 22:00 Uhr

Adresse: Hinterm Hauptbahnhof 3-5, 76135 Karlsruhe
Inhalt/Agenda:
18:00 Uhr: Ankommen bei IONOS
18:15 h -19:00 h: Verpflegung mit Pizza und Getränken (Softgetränke & Bier)
19:00 h: Vortrag "Rethinking B2B: Are Brand Ambassadors overrated?" von Erwan Le Fraillec (IONOS)
19:45 h: Vortrag "

The Power of Google Business

" von Roksana Leonetti (Schluetersche)
20:30 h: Vortrag "

Navigationsoptimierung: Tipps für eine SEO- und nutzerfreundliche Website-Navigation

" von Vanessa Wurster
ab ca. 20:30 Uhr: offenes Netzwerken
22:00 Uhr: Ende
Sei beim OMT-Clubtreffen dabei und erhalte tollen Input aus Vorträgen sowie Networking.


Essen & Getränke


Neben der inhaltlichen Verköstigung werden wir auch etwas zu essen und zu trinken breitstellen!


Die Anmeldung


👉👉👉Teilnahme nur mit Anmeldung über das Formular!
…….und bitte: sagt NUR Bescheid, wenn ihr auch wirklich kommt. Es ist immer ärgerlich am Ende auf zu viel Essen und Trinken sitzen zu bleiben.